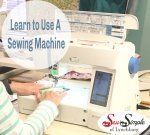 Sew Simple Class Info
All classes can now be seen at our "sister site" AmyQuilts.com and registration can be completed online. Click here to go directly to the class schedule page.
All classes require pre-registration and payment due to small class sizes, which can be done in person or over the phone. Space is very limited, so don't delay. We have fabulous teacher/student ratios!  Can't make it to a class that you signed up for? Refunds are given with a minimum of 1 week notice. Any other cancellations or no-shows will be issued store credit only. No-shows may affect your ability to register for classes in the future.
Bring your own machine and basic sewing supplies unless class listing says otherwise. Don't have a machine? One can be provided in most cases for a $5 fee. Class materials list will be provided in store or online as soon as available. Some classes also require a class kit at an additional fee. This makes gathering the materials need easy as the kit provides them for you.
Sorry, no guests or children may accompany the student unless they are also a paid student. Check with us on suitability of a particular class for older children.
Suggestions for classes are welcome and private to semi-private classes can be arranged on a variety of topics. With scheduling difficulties, this can be the best way to get the class you want, especially for busy people (kids too!) so we  can tailor classes to fit you!
Sew Simple of Lynchburg 2414 Wards Rd. Lynchburg VA 24502 
434-239-6708
www.sewsimpleoflynchburg.com