One of the reasons we bought Sew Simple is we love helping and connecting with creative people and helping them with their sewing needs. I am an introvert's introvert and can become one with the wallpaper when in a crowd, but when there's sewing, quilting, and creating to talk about, I come out of my shell. If you've met my husband, you already know he's quite the outgoing talker. He loves the variety of machines he gets to work on. We make a great team.
We want to connect with you! We are having an open house event September 16-17 during regular shop hours. We'd love to meet you, show off some of the changes we've made in the shop, and demo some of our new machines. Come join us, enjoy light refreshments, and make sure to put your name down for a drawing of prizes.
During the open house is an excellent time to sign up for our fall class offerings. That's right, after many questions from customers and a little prodding, I've finally committed to a class schedule. You can read more about them by hovering your mouse over the drop down menu above where it says "Shop News" and clicking "Classes and Events."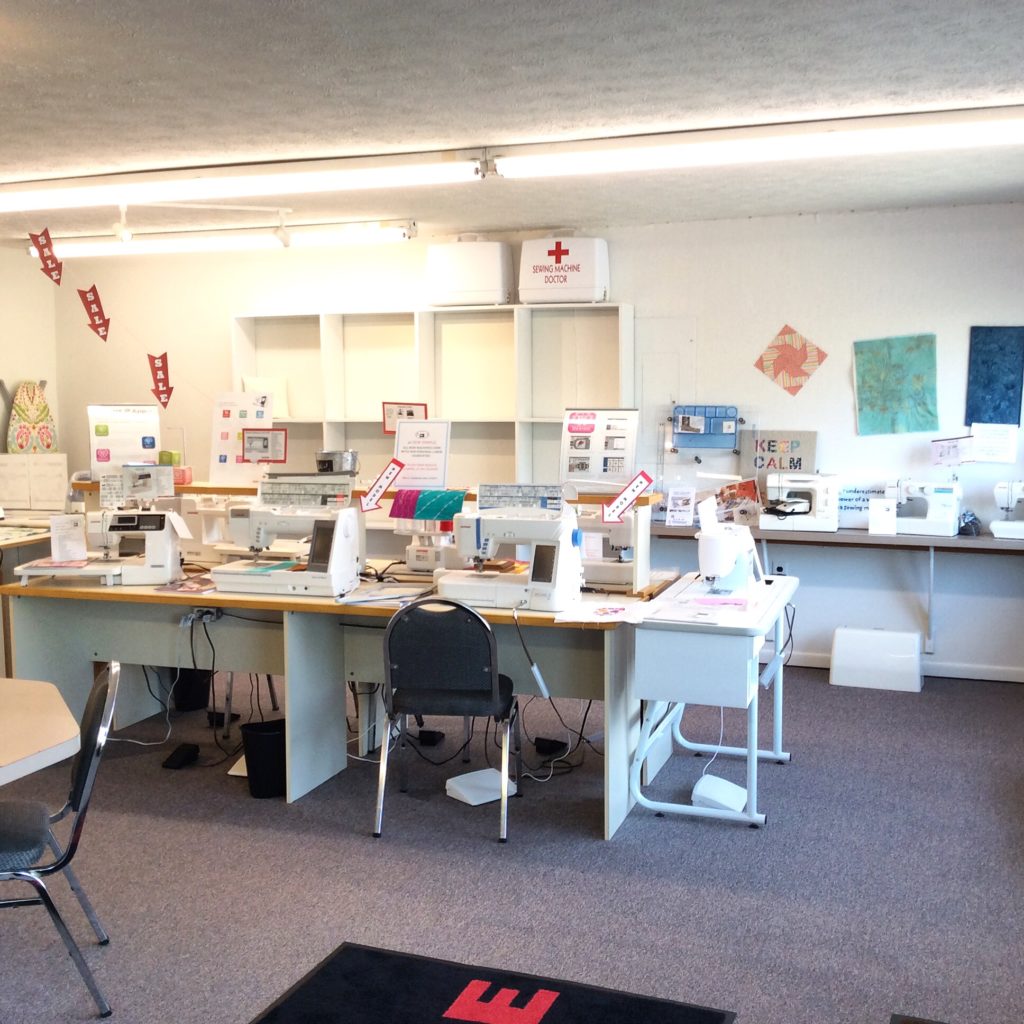 September is National Sewing Month and we've put all our machine feet on sale. Janome feet are at least 20% off and all AccuFeed feet for the 6600 and 7700 are marked down 40%!  We also carry a wide selection of vintage machine feet which are all $2.00 each! These can be hard to find, so come take a look. The right foot for the job makes a huge difference. Plus many of our feet fit on a lot of the other machine brands out there.
If you can't see us in person, you can also find us online. The shop has a Facebook channel which is pretty active. I'm far from a social butterfly but I started my business online, so I'm on most of the popular social media places. I don't tweet or snapchat–whatever that is. But as a Craftsy instructor, it's expected to have a fairly large presence online. (By the way, that's a special instructor affiliate link that will allow you to get my Craftsy classes at 50% off anytime). I've got a separate Facebook page for my blog where I do the bulk of my writing and tutorials.
I also have an online shop. It's mainly for my Craftsy students as you can get anything there at Sew Simple, but you might want to check it out. We will probably start to offer more products from Sew Simple there over time. It's been hard to get into the swing of things here at Sew Simple and keep up with my blogging, put I can always snap a picture, so I post on Instagram a lot lately with both items of interest to quilters and to our local customers. I don't plan on setting up separate profiles for these things– I just wouldn't be able to keep up!
I also have videos on YouTube. Thankfully, the only parts of me seen there are usually my hands, as I demo something at the sewing machine up close and in detail. There will be more shop content on there as we go forward. Then there's Pinterest….that wonderful source of inspiration and time sucking vortex. Poke around on some of my boards and you'll see what I'm finding interesting and what might end up in the shop. Don't forget email. See the homepage here to sign up for the shop's email newsletter. I promise not to spam anyone, nor fill your inbox too often.
Yeah, I get around…..but it's all in the name of creativity with needle and thread.
Don't think this is all one sided. These are places where I like to get feedback and help others. Ask questions, request certain classes, times for classes, products, whatever and I'll do my best to help.