I am so excited about the latest machine in Janome's line up, the Skyline S9, and honestly, it takes quite a bit to get me thrilled about a new model. But this sewing and embroidery combination machine has some super-duper bells and whistles on it that you will actually use and yet, the price is reasonable for a machine of this type.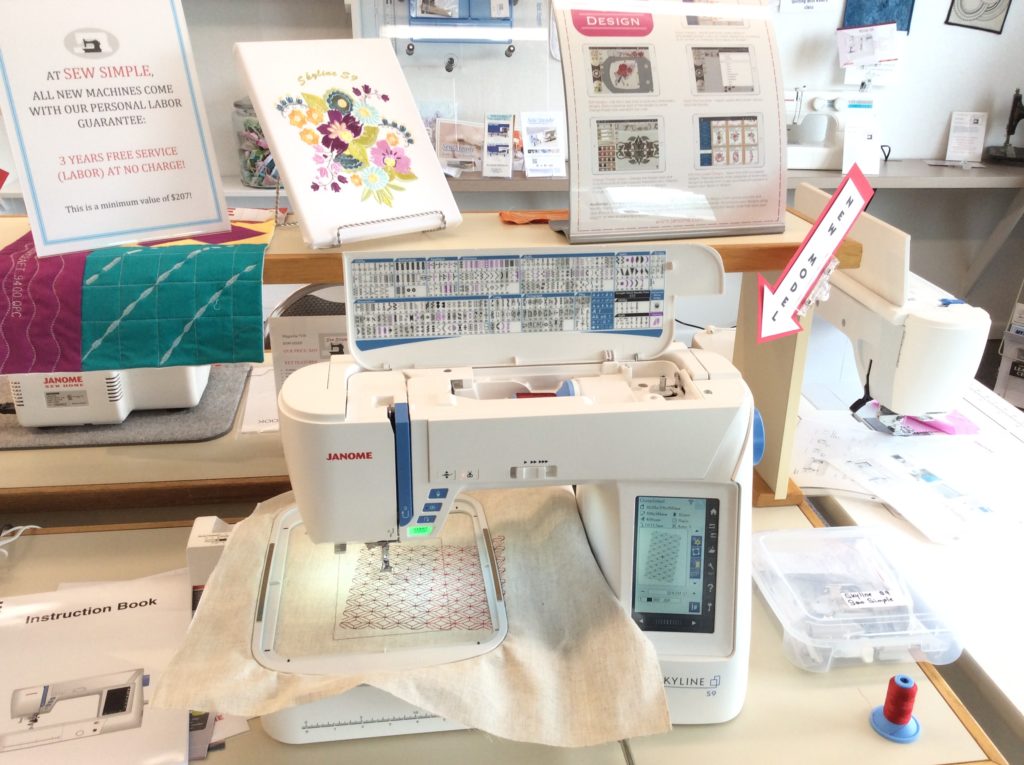 It's not that it looks all that different. In fact it looks pretty much like the other Skyline models (S3, S5, and S7) but it also does embroidery. The MSRP at $3,999 is a full $1000 less than the MC9900, which is another sewing and embroidery machine of a similar size. We can't advertise our actual price on this machine online, you'll have to check with us instead.
And yet, this baby does so much to make embroidery so much easier! The full color, large touch screen makes it easy to see designs on the machine. It also has a ton of great editing features so you can combine and edit designs right on the machine. You can resize, flip, rotate, copy, and combine regular designs with any of the 20 fonts in the machine plus quite a few other edits to make designs unique to you. This machine also comes with its own software for your windows computer so you can edit before sending to the computer.
Enjoy choosing up to 250 embroidery designs, including 40 exclusive designs by Anna Maria Horner along with 300 stitches. With a maximum embroidery size of 6.7″ x 7.9″ and sewing speeds of 1000 stitches per minute, the Skyline S9 provides a full suite of powerful capabilities to ensure all projects are beautiful, yet easily executed.
This great machine includes Wi-Fi capability that makes it easy to send embroidery designs from an iPad or computer straight to the machine. You can also move designs to the computer directly via cable or USB. In addition, the Skyline S9 includes three iPad apps: AcuEdit, AcuMonitor and AcuSetter to make your sewing and embroidery time more efficient. I've been playing with the Accusetter app a bunch and it's fabulous!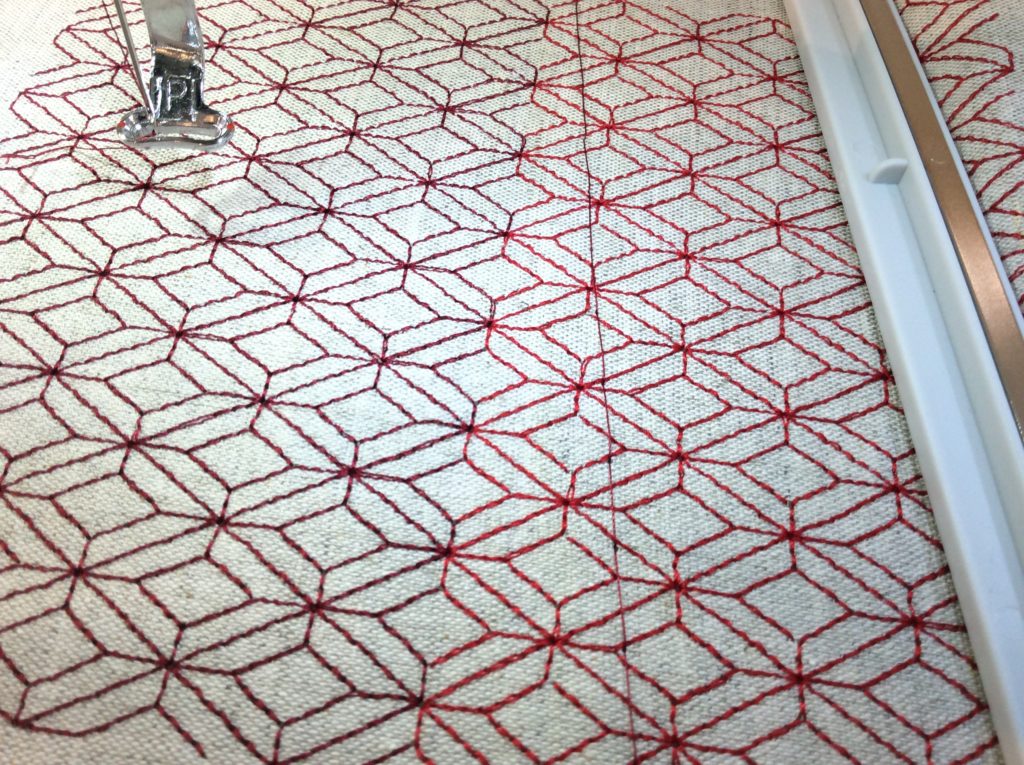 The Accusetter app was previously only compatible with the Memory Craft 15000. It allows you to use the camera on an iPad (I use an iPad Mini and I think you can also use an iPhone) to take a picture of your project in the hoop and then overlay an image of your embroidery design over the picture and re-position it until it's absolutely perfect. Hooped that T-shirt crooked? No problem. Once you've got the embroidery image positioned in the app, send it back to the machine and the design is automatically adjusted to stitch out where you wanted it.
In the above photo, note the two colors of red thread. This is the junction of two stitchings of the same design side by side. Look how perfectly they match up. No need for printing paper templates, marking or rehooping. I even purposely hooped the fabric crooked for the second stitching– note the basting line which is parallel to the hoop edge.
Imagine— a perfect line of embroidery around the hem of a dress, perfectly placed logos over a shirt pocket, combining multiple floral motifs for a huge design. For this Sashiko-style design and similar ones like it, you can dress up a plain fabric into something unique whether for a garment, bag, or background fabric for applique.
This machine has a full 8.25 inches to the right of the needle, so it's a great machine for finishing your own quilts, whether you use the built-in walking foot (Accufeed foot) or easily drop the feed dogs and use free motion quilting. Sewing and piecing is a breeze as well and there is a wealth of feet that come standard with this machine.
I'll post more about this machine as I have more time to play with it, but I encourage you to visit the shop and check it out!