Ever since Sew Simple stopped carrying Dakota Collectible CDs a few years ago when downloading designs from the internet became so popular and affordable, I've been trying to figure out how to share with our customers the embroidery designs that we love and don't carry as CDs. Giving out a printed link for a specific design is cumbersome and we're not set up to sell downloads through our web site.
By the way, did you know that we do have an online store? It's part of Amy's earlier work as a Craftsy instructor and quilting blogger: Amy's Quilting Adventures. Check it out. We're still trying to figure out how to integrate this web store with Sew Simple.
But I digress…. Janome has developed a partnership with OESD (Oklahoma Embroidery Supply and Design), an embroidery design and supplies company which allows us to set up as an affiliate to promote their designs (and other designers)  and products  with our customers. For our work in sharing their products, we get a tiny portion of the sale when our customers make a purchase through our links. Designs are offered in a multitude of formats as well for those of your who haven't made the change to our wonderful embroidery machines or have an off-brand back up machine.

This allows me to access a lot of their designs and stitch them out and share the best of them with you! We all know that not all designs stitch out like their pictures and sometimes you need to see the design in its stitched form before realizing what you could do with it. It also gives us some interesting options for our machine embroidery classes.
Our "Shop News" blog is a great place for me to share the information with you so you can easily click through to the design. No need to write the info down and key it in later. We'll also share these through the shop's Facebook page.
OESD and their superior tech support handles the download portion of your purchase as well as shipping any physical products they may offer. We just share the product links with you.
Physical products? Yes, they sell physical products as well. You can order the embroidery designs as downloads, as CDs, or on USB drives. There are other physical products they sell as well. That's part of the arrangement that I'm not wild about. I'm a shop, not an advertising agency, but I can't stock everything either. So if you find products that you love on the site, order them if you must, but if it's something we carry in the shop already, I bet we've got it at the same price or better and you won't need to pay for shipping. If it's something you think we should carry, let us know and we'll look into it.
So how does it work? First go to Janome-Embroidery.com and click on the buttons as shown in this screen shot below.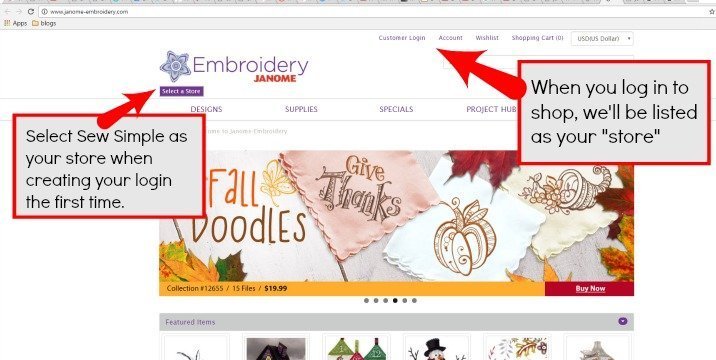 Links to the site that we post for you will give us credit for your purchases, but you can also select us (Sew Simple of Lynchburg) as your "store" through your log in settings. Choosing a store doesn't increase the price you pay at all and Janome also has special deals that you can only access by choosing us as your store.
When you buy designs through this site, your designs are also saved into your account there. So if your design is lost as you move the files or your computer crashed or needs replaced, you can download them again at no charge!
Customer support for Janome-Embroidery.com is provided by the site management team, not through Sew Simple, but since we know the site because we use it too, we are available if you need someone to help you in person.
Best of all? Janome has declared the month of October as Janome Embroidery Month and are giving away free designs each day directly on their site here: Janome Embroidery Month
Scroll to the bottom of the above link and you'll see a Janome sticker campaign. We have a limited number of these stickers in the shop. Come get yours before they're all gone!
Some of the links in this post are affiliate links.