Quilting with Rulers Class Supplies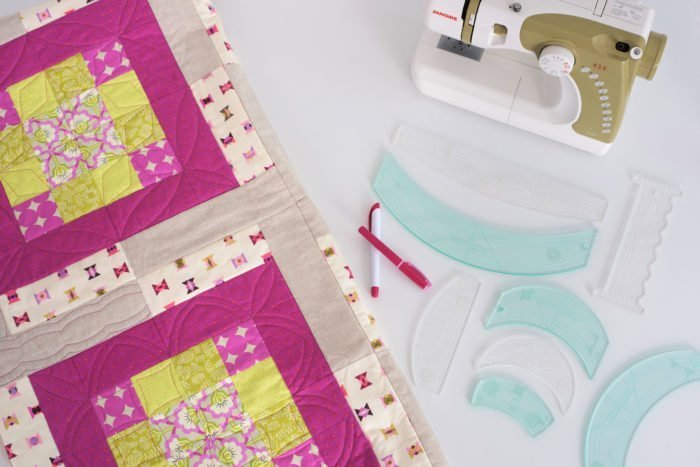 Sew Simple of Lynchburg, Amy Johnson
Quilting with Rulers
Class Supplies
Reminder, this is a free motion quilting technique. It is expected that you are proficient in setting up your machine for free motion quilting and the basic motion of moving the quilt sandwich. You do not have to be good at fmq, but we will not have time in class to teach you free motion quilting basics. A beginning FMQ class is offered frequently at Sew Simple. You will need to bring:
Sewing machine in good working condition, including extension table, foot pedal, power cord, etc. (It is always best to have your machine for class, but we can 'rent' a machine for an additional $5 but availability is limited. Please arrange this in advance.)
A ruler foot is mandatory for this class- we will have feet available for purchase and will talk about the foot choices and take time to fit the machines with feet if needed during the class. If you have a newer Bernina, you'll need to get the Bernina #72 ruler foot ahead of time.
Quality thread in two contrasting darker colors.
Quilting gloves
Fabric marking pen
Thread snips or scissors
Anything you use to set up for free motion quilting like a Sew Slip matt, Supreme Slider, etc.
We will provide:
A basic ruler for use in the class (If you have the Westalee ruler foot, bring the ruler that came with it.)
Pre-marked quilt sandwich to stitch on
Hand outs
A selection of quilting rulers to stitch with near the end of class.
During this class, we will learn about the importance of a ruler foot for quilting with rulers, how to choose rulers for your machine and projects, best practices when using a ruler with free motion quilting, and a variety of basic ruler work designs. If there's enough time at the end of the class, time can be taken to experiment with specialty rulers.