Machine Service and Repair
Eric Johnson is Janome certified to work on our Janome machines for service and repair, but he also enjoys working on old vintage machines, Kenmores, and is available for call-outs on industrial machines and some long arm machines. When a local dealer isn't available for work on your machine, we may work on it at our discretion, depending on the model and issues.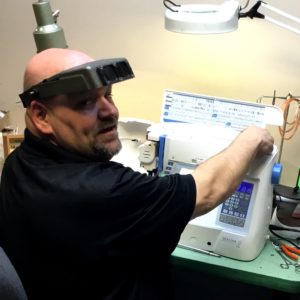 All machines work best when they are properly serviced and lubricated. Lack of lubrication, and presence of debris in the machine lead to an early demise. Take care of your machine and it will make sewing a joy. We recommend an annual "Clean, Oil, and Adjust" to keep machines running at peak performance. This service starts at $89.00
Our reputation for machine repair and instruction is second to none and we enjoy keeping your machines humming.