I see so many folks trying certain sewing techniques without the best foot for what they are doing. Your sewing is much better and more enjoyable when you have the right tool for the job. Or foot, in this case.
Here at Sew Simple we have a plethora of feet!
Not only do we have the spinning tower of Janome feet for nearly every technique you can think of, we also have a pretty good selection of feet for vintage machines. Plus, many feet can be used on other brands' machines.
We're pretty knowledgeable when it comes to matching up feet to machines, but there are a lot of machines out there; vintage, antique, brands with no nearby dealers….
What's the first step to matching up a foot for one of these machines?
It's determining the shank type.
If you've followed along at Amy's blog, Amy's Quilting Adventures, you know that she teaches two classes with Craftsy on quilting with rulers. This technique requires a special foot and with over 19,000 students enrolled in just the first class, she's gotten pretty good at answering the shank type question.
You can read her whole post on determining shank type, though it's primarily focused on ruler work (quilting with rulers in free motion). But here, we'll distill it down so you have the knowledge you need to know when you come get feet for your machine at Sew Simple.
First, does your machine have a vertical bobbin and metal bobbin case or does it have a drop-in type bobbin? Next, we look at the actual presser foot bar (aka the shank).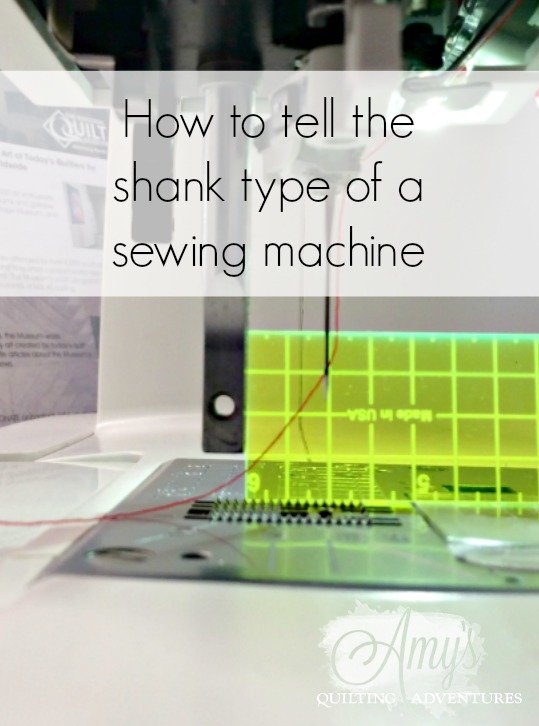 First, remove the shank or foot from your machine. We're going to measure from the center of the screw hole where the shank or foot attaches.
Some machines have feet that attach at this hole, while other machines have a snap-on shank and the feet are easily interchangeable. Removing whatever is attached at the screw hole makes it easier to see the measuring point.
Now lower the presser foot lever. We need the machine to be positioned like you're ready to sew even though the foot isn't attached.
Again, make sure the presser foot lever is down.
Now measure from the bed of the machine to the screw hole.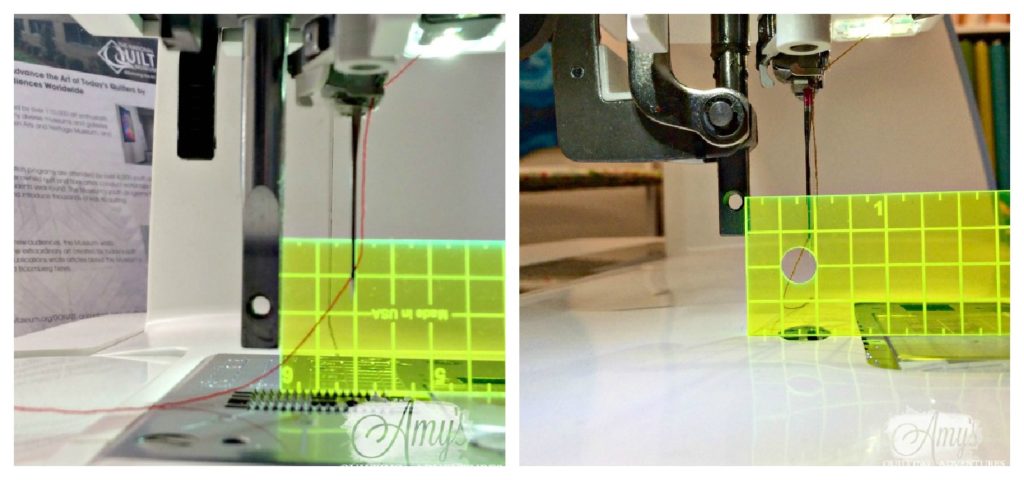 If the distance is 1/2 inch, you've got a low shank machine. (Low shank on left, high on the right)
If the distance is 1 inch, it's a high shank machine.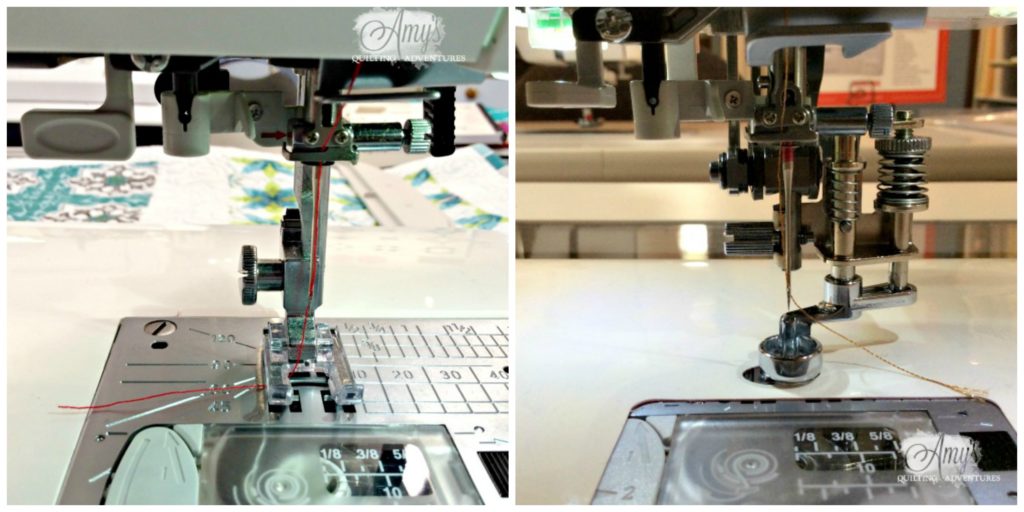 Above is a standard low shank Janome machine on the left and my beloved Janome ruler foot combination on a high shank machine on the right.
Those are the easy machines. But there are some machines that don't fit into these two main categories.
First there are some machines that are high shank machines, but the needle position is different than regular machines. These are the straight stitch only machines like the Janome 1600P and its clones: Brother 1500, Husqvarna Megga Quilter, Juki 2010, etc. These are considered a high special and use the same feet as the Janome 1600P. We've got feet for these machines.
There are some machines that fall somewhere in between high and low. These are usually Pfaffs, but not all Pfaffs are medium shanks. Before declaring your machine a medium shank, make sure the presser foot lever is in the down position. Pfaffs that use a special half-way position for free motion are considered medium shanks.
Berninas are….well, Berninas. See your Bernina dealer.
Some vintage machines have slant type shanks. They need slant type feet. We have a decent selection of these.
Additionally, most modern machines (other than those high speed 1600P types) now use a snap on shank and then the feet attach to it. You may need to look for feet that have the foot and shank as one unit, but many machines can be fitted with a modern snap on shank with makes changing feet so much easier!
Still have questions on what feet fit your machine? You can always bring it in for us to fit it with a foot or take a few pictures with your phone and bring that in.
We are happy to help your sewing be as enjoyable as possible!
We are central Virginia's Exclusive Janome dealer and repair/service center. We also perform knowledgeable sewing machine repair on a wide range of sewing machines. We also conduct classes on a variety of sewing techniques and is the only place to learn quilting with rulers from Amy in person.